Ernest Hemingway said it best when he claimed, "Wine is one of the most civilized things in the world and one of the most natural things of the world that has been brought to the greatest perfection…". We sat down with our Restaurant Manager, Matthew Sayer, and received his top 3 list of this summer's best wines and what they pair especially well with here at the Willcox Restaurant!
1. Barton & Guestier Rose – Provence, France- Light, fruity and sweet, this is a classic Rosé. Bright strawberry fruits are softly linked with a crisp texture and acidity to finish. I would pair this with our spring salad- arugula, blueberries, peppercorn feta, red onion, salted pretzel & balsamic dressing. This will match well because the acidity of the wine will cut through the fatty texture of the peppercorn feta.
2. Villa Maria Private Bin Chardonnay – Hawkes Bay, New Zealand – A medium-bodied Chardonnay with a focus on fruit. Honeydew and citrus flavors take the lead, then finish crisp and clean. This will pair well with the Smoked Cornish Hen. Here's a fun fact: most chardonnays are aged in oak barrels. The Villa Maria is aged in stainless steel vats so it is very crisp and clean. Coupling this wine with the smoked hen is a play on not being aged in oak barrels, the smokey flavors that linger on your palate really mellows out the chardonnay giving a creamy feel to the wine.
3. Jean-Louis Sparkling Brut – France – This is a sophisticated wine that's ripe and full bodied. It has acidity that supports the apple and citrus flavors, pairing this wine with the Moses Sleeper Brie. The idea here is that especially fatty and generally salty cheese is cut by the wine's effervescence, essentially scrubbing your palate clean for more cheese.
Are you as excited as we are to taste Matt's recommended Summer wines? Now that your wine knowledge has ripened, host a dinner party with dear friends or we'd love for you to come celebrate with us at The Restaurant with a glass of wine! Here are a few interesting facts about our wine offerings:
120 bottles on our wine list
40 offered by the glass, glass prices range from $6 to $25
We serve wine in proper stemware by Reidel
We select esoteric wines that have the flavor and balance of some of the more recognized wineries around the world.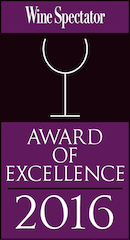 We're extremely proud to announce we've won the 2016 Wine Spectator Award of Excellence for the third consecutive year! With our carefully chosen, diverse assortment of wine we have the pleasure of delivering a satisfying experience to all of our Willcox wine lovers. Thanks for continuing to raise a glass and celebrate with us!